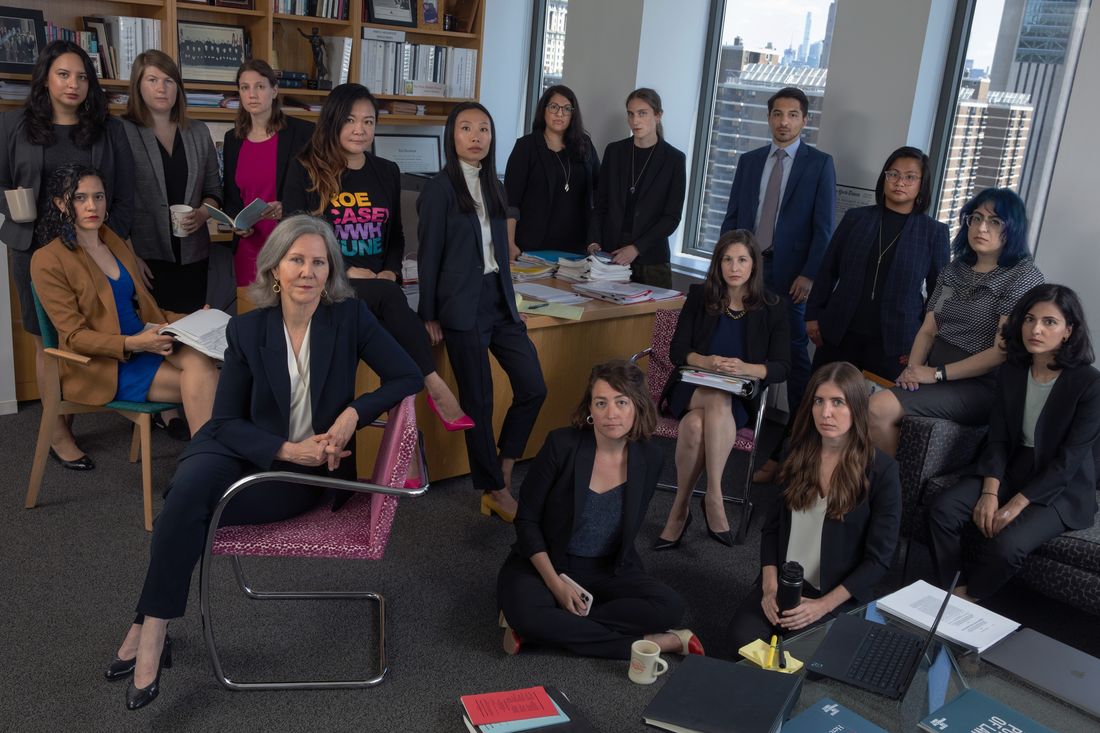 Front row (from left): Astrid Ackerman, Nancy Northup, Hillary Schneller, Genevieve Scott, Caroline Sacerdote, and Kulsoom Ijaz. Back row: Adria Bonillas, Cici Coquillette, Michelle Moriarty, Jenny Ma, Alice Wang, Meetra Mehdizadeh, Jessica Sklarsky, Nicolas Kabat, Jen Rasay, and Rabia Muqaddam.
Photo: Tina Tyrell
Amid a terrible week for reproductive rights, there was a small reprieve: On June 27, days after the Supreme Court struck down Roe v. Wade, a Louisiana judge blocked a spate of so-called trigger laws designed to outlaw abortion in the state as soon as Roe fell. Similar injunctions followed in Utah, Kentucky, and Florida, while in Texas a judge blocked a ban that had been on the books before Roe. Together, these rulings are temporarily keeping abortion legal in those states and signaling that there may be a way to jam up the new anti-abortion regime.
The injunction in Louisiana took many in the media by surprise, but it's the product of years of spadework by the Center for Reproductive Rights, whose lawyers co-authored the suit challenging the trigger laws. "We started publishing 'What If Roe Fell?' " — a state-by-state report on the consequences of overturning Roe — "in 2004 because we were concerned back in the Bush administration, even under a very different Supreme Court," says CRR president and CEO Nancy Northup.
When the Supreme Court handed down Dobbs v. Jackson Women's Health Organization, Jenny Ma, a senior staff attorney at CRR, promptly got to work on Louisiana. "I slept eight hours, probably, over the three days after that decision," she says. The CRR believes Louisiana's trigger bans are so vague that an ordinary person could not understand them. "It's all really confusing as to who can even enforce them, how they're being enforced, which one is being enforced," Ma says, "and that's not legally possible under state constitutions."
The CRR's challenge in Louisiana, Ma says, is purely procedural, and it's entirely possible that it could fail upon review. In other states, the CRR and other organizations are arguing that even if Dobbs asserts that abortion is not protected federally, the state constitution establishes a right to abortion, and those rights would be difficult to roll back. For organizations like CRR, the fight for abortion access will take many forms.
"There's short-term goals and long-term goals," Ma says. "Every single day that someone gets abortion care, their lives are truly changed."
Related Posts