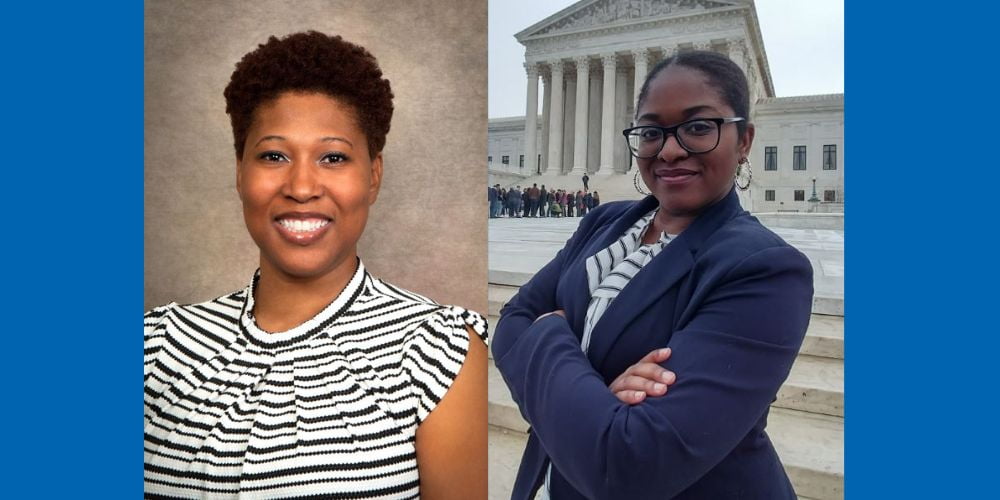 Sherece Shavel says the driving force behind her new course at The University of Texas at Arlington is the need to make students understand the intimate connection between the law and social work.
"Often times, social work students don't recognize that connection—that intimate relationship that our profession has with the law," said Shavel, assistant professor of practice in the School of Social Work. "The presence of the authority of law is woven all throughout what we do as practitioners."
Created in collaboration with the UTA Pre-Law Center, "Social Work and Law" highlights the importance of understanding the legal environment on multiple fronts as it pertains to the social work profession. There are breakdowns of the legal landscape on the federal and local levels, procedural lessons including how to read laws and cite legal sources and explanations of how social workers should act in certain legal settings, such as during testimony or when served with a subpoena.
Not knowing how to navigate legal waters could have consequences for both the social worker and whomever they are representing or serving, Shavel said.
"If you lack the necessary legal knowledge, you likely may cause harm to an individual you're trying to help," she said. "It might mean imprisonment, parental rights termination or that a child remains in an abusive situation. It could be extreme."
The course's roots date back to Shavel's first appearance in a courtroom as a social worker. She said she stumbled, made mistakes and had "no clue" about the courtroom process, remembering the experience as a "hot mess." That's when she made it part of her mission to ensure that social workers who came after her entered a courtroom prepared.
"From that point forward, I did what I needed to do to develop my knowledge and skills," she said. "My passion is to give students the opportunity to gain those skills before they find themselves in the position I was in."
The hallmark of the course is a courtroom simulation conducted with the help of UTA's mock trial class. Social work students must write a witness statement based on an assigned case and then testify as expert witnesses with mock trial students questioning them as the defense and prosecution. It is a partnership born out of a conversation between Shavel and Amber White, director of UTA's Pre-Law Center and mock trial coach.
"My students, who are going to go off and be lawyers, get the practice of working with individuals who are going to be treated as expert witnesses," White said. "And social work students get the benefit of becoming witnesses and getting that firsthand experience of the lights and pressure of an actual hearing. We loved the idea."
During the simulation, the social work "witnesses" do not know the questions the mock trial students will ask. At the same time, the mock trial "defense" and "prosecution" no longer have the safety net of a structured mock trial competition setting, forcing them to react instantly.
"Speaking from personal experience, you have no idea what these witnesses are going to say. Sometimes, your own client may turn the tables on you and say something in court that they have never said to you before," White said. "That collaboration is beneficial for all students involved."
Sophia Gyles, a junior pursuing her bachelor's degree in social work, said she considers the course a blessing because she now knows how to be a better advocate for her clients.
"I think that anyone who is going to be a social worker needs to take this class to have a sense of what it will be like in court, to speak on behalf of my clients and to be a representative for them," she said.
Related Posts